Synergistic Real Estate Management & Network Pte . Ltd . (SRE)
Synergistic Real Management Management & Network Pte Ltd, (SRE) is the leading Asian company in project development, investment, management and operation of Complexes, Shopping malls, Hotels, Residential areas and other types of real estate.
SRE and its team have accumulated over 30 years of experience in developing real estate projects around the world with the total development area of Commercial projects up to 12 million m2 in more than 100 cities of 10 countries in Asia – Pacific region.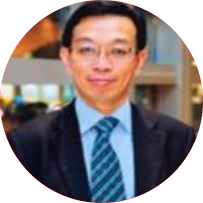 FOUNDER & CEO OF SRE
Served as Senior Vice President of Ascott Holdings/Capital Land (The largest Real Estate Management brand in Southeast Asia

Served as Senior adviser of Mckinsey & Company (a company operating in the field of Global Real Estate) in Asia and the Middle East

Accredited with the Asian Talent Award by ICSC

Accredited with the Special Award in 2006 for outstanding contributions to the Commerce Industry of China

Accredited with Global Retail Leadership Award – Asian Retail Congress (2008)

Appointed as Chairman of Council of Asian Shopping Centers (2014)

With over 25 years of experience in real estate business, development and consultancy in China and throughout Asia