In the field of property management, the management of commercial center operations, offices and industrial zones are starkly different and require different expertise compared to building operations management or urban management.
Let's explore the main differences in managing commercial center operations based on our in-depth experience at BRD Vietnam:
1. WHAT IS COMMERCIAL CENTER OPERATIONS MANAGEMENT?
Commercial center operations management is the management of general operations and Customer care, technical, security, sanitation, pest control and other services to ensure that all departmental activities are always controlled, optimized and effective.
In addition, commercial center operations management also ensures regulations, rules as well as business activities of Tenants and enhances Customer experiences when shopping, playing… at the commercial center.
2. MAIN DIFFERENCES IN COMMERCIAL CENTER OPERATIONS MANAGEMENT
2.1. Compliance with State Regulations on Commercial Center Operations Management.
According to the provisions of Article 5 of Decree 99/2011 / ND-CP, the Commercial Center Management Board will perform the following tasks:
Issue internal rules to ensure Customer rights according to the Law
Reconcile disputes between sellers and Customers
Design measuring devices at the commercial center so that consumers can check the quantity and weight of goods themselves
Monitor, inspect the status, quantity and quality of goods
Announce a hotline to receive and resolve consumer complaints
Regularly check every 6 months to measure quality, quantity, origin, food safety and hygiene of goods
Supervise to promptly detect acts that violate the law affecting consumer rights
Punish violations within the internal rules.
2.2. Marketing and Leasing Management
The main purpose of marketing and leasing activities is to enhance the value and brand image of the commercial center in the market. In addition, this activity can also help businesses fully exploit the values ​​of the commercial center by:
Understand the principles of classifying Tenants, brands and industry groups to serve Tenant management/exploitation.
Grasp the general retail market and local market to exploit and develop new trend Tenants/industries
Search for Customers who want to rent space at a commercial center
Collaborate with the Marketing department to build, deploy, evaluate marketing plans, advertise brands, communicate images of commercial centers
Monitor information and status of premises at commercial centers through periodic evaluation of Tenant/industry status at commercial centers, propose changes/additions to Customers.
Support consulting process, guide rental and handover premises for Customers.
2.3. Customer and Tenant Care Management
To aim for a win-win relationship between the two sides, the commercial center management field needs to design a suitable and detailed Customer care program that combines business factors to ensure the occupancy rate of the commercial center:
Control contract management and Tenant care, ensuring that employees comply with and follow procedures/regulations, bringing satisfaction to Tenants and Shoppers at the commercial center.
Evaluate and assess the business situation of Tenants at the commercial center, cooperate with good business Tenants to maintain and develop.
Control the quality of service/operation of Tenants, thereby grasping the actual situation to plan focused training, overcome/handle existing problems.
Measure Customer satisfaction, capture the tastes of Shoppers through periodic satisfaction surveys every 6 months.
Build relationships and exchange regularly with Tenants, ensuring that feedback from Tenants is received to have two-way information, timely support for Customers in operations and business at the facility.
Organize coordination to resolve complaints and complaints from Tenants, Shoppers related to operations, answer questions and continuously improve Customer care quality.
2.4. Management of event activities, Marketing of Commercial Centers
Develop programs, activities, regular events to support Tenants doing business at the commercial center.
Manage event activities, animation at the commercial center, comply with standards, achieve growth goals of each specific program.
Control the system of signs, advertising images inside and outside the commercial center to increase revenue, adjust, replace to ensure accuracy, suitability, meeting standards.
 The fact that Investors hire a professional commercial center operations management agency will bring benefits such as:
Save operating costs: A professional management unit will build a detailed and complete operating plan for Investors. From there, Investors can reduce costs for unnecessary work and overcome unnecessary incidents.
Enhance the value of the commercial center: When activities in the commercial center are well operated and effective, it can create trust and high value in Customers' hearts that will always ensure the occupancy rate of the commercial center.
Create sustainable cooperation relationships: Through management activities, Customer care, the relationship between Investors and Tenants at the commercial center will be connected and deepened.
Ensure infrastructure: professional commercial center operations management will always ensure that infrastructure is in good quality and effectively operating. Through this, Customers will experience good and convenient services when shopping.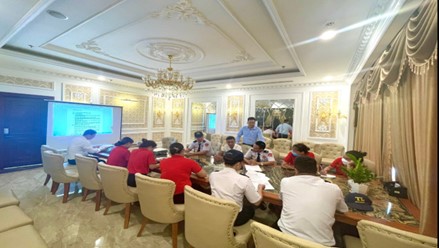 ---