1. What is Building Technical Consulting Services?
Building Technical service is an essential part of professional Operation Management including operation, troubleshooting and maintenance related to the operation and maintenance of technical systems such as:
It includes both electrical systems, water systems, air conditioning systems, fire protection systems, low voltage protection systems, BMS control and automatic monitoring systems, and more.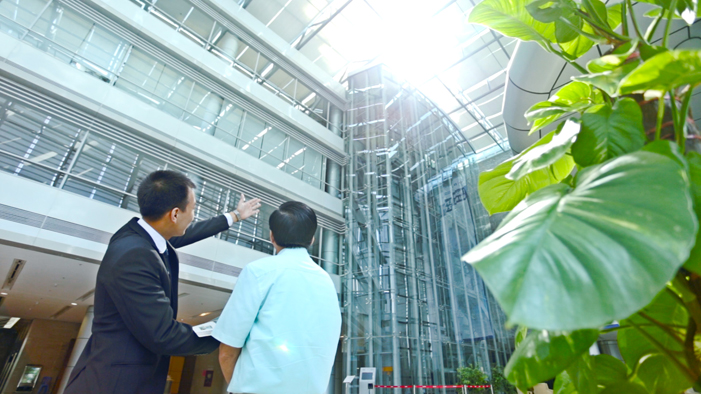 Each building will have different technical requirements based on its scale, intended use and specific characteristics of each stage of acceptance, acceptance and operation. Therefore, understanding and properly operating these systems is an essential part to ensure the building operates efficiently and safely.
2. Benefits of using building technical consulting services
Building Technical Consulting Services bring significant benefits, including enhancing operational efficiency, cost savings and improving infrastructure quality.
Enhancing operational efficiency: Technical consulting services help ensure that the system acceptance from the contractor has ensured that the design and installation are in accordance with the process and regulations and that the system test runs smoothly.
In addition, professional technical services during operation will ensure that all technical systems operate stably and efficiently, while helping to capture the situation, solve potential problems and propose technical improvements to improve the operational efficiency of the building.
Cost savings: Efficient and smooth management of apartment buildings, commercial building management, office or urban area management will help minimize repair costs.
Improving infrastructure quality: Good technical operation will contribute to improving infrastructure quality, thereby increasing the value of the building.
3. The role of building technical management staff
Building Technical Management staff are responsible for including tasks
Operating, troubleshooting, maintaining, controlling and improving technical systems in the building.

Daily technical system operation checklist They also have to follow

Monitor and solve daily technical problems

Perform periodic maintenance tasks

Control repair and upgrade work as well as risk control and propose technical solutions to improve the operational efficiency of the building.

Proficiently operate systems as well as manage and use technical tools

Cost management especially energy costs and control consumable material budget, small and large repairs.
3.1 List of records, biographies of machinery equipment
An important task of building technical management staff is to list, store and track records of all equipment and technical systems in the building. This includes tracking usage history, maintenance and repair of each device, making management, operation and maintenance easier and more efficient.
3.2 Management and operation of systems
Technical staff are also responsible for managing and operating electrical systems, water systems, air conditioning systems, fire protection systems, low voltage systems, BMS control systems and automatic monitoring…technical systems in buildings from electrical systems water to security systems and temperature control. They must ensure that all these systems operate stably and efficiently.
Periodic maintenance is an important part to ensure that technical systems operate continuously without incident. Technical staff must schedule and perform maintenance tasks from periodic inspections replacement of damaged parts to optimizing system performance.
When technical problems occur, building technicians will repair and replace damaged or inefficient parts. This requires high technical skills and knowledge to ensure that the technical system continues to operate safely and efficiently after repair.
3.5 Collaborating with other departments
Closely coordinating with other departments in the building, such as service management, customer care and other departments such as security, sanitation… to participate in risk management, avoiding energy waste in the building… helps ensure that activities in the building take place smoothly and efficiently.
4. Technical consulting services – BRD Vietnam
BRD Vietnam is a provider of high-quality real estate management and building management services. The company has provided technical consulting solutions and services for many different projects.
BRD Vietnam is highly appreciated by many customers for its accuracy, speed and efficiency in maintaining technical systems. BRD's staff are dedicated, serious with their work, tasks and have high professional skills.
---
BRD Vietnam Joint Stock Company operates in the field of Research and Development Consulting, Exploitation, Business and Operation of various real estate products including Housing, Commercial Centers, Offices, Schools and Industrial Parks.
Headquarters: Floor 6 – 188 Truong Chinh Building, Khuong Thuong Ward – Dong Da District – Hanoi
Website: brd.com.vn
Fanpage: https://www.facebook.com/brdvietnam
Telephone: 0327012525